A Dawson dentist is one who has dedicated many hours of postgraduate education to learn how to care for patients at the highest ethical and professional level.
A primary principle of Dawson dentistry is to do what is necessary to achieve long-term maintainable health and comfort as well as the creation and maintenance of a beautiful, natural smile. Dawson dentists are trained to use the WIDIOM rule, which means, "would I do it on me?" This concept requires careful examination and treatment planning designed to help patients understand every problem so priorities of treatment can be put into proper perspective.
Over-treatment is never acceptable and hurried, incomplete examinations or ineffective treatment planning too often results in dissatisfaction. With proper treatment planning, patients can know in advance everything needed to make a good decision about their dental treatment and to make choices when options for treatment can be safely made.
Dawson dentists are trained in an analysis of bite problems and related disorders of the TMJ's (jaw joints). The goal is always a completely comfortable bite and a peaceful neuromuscular system. Dawson dentists pride themselves on being physicians of the total masticatory system so, as such, they are often considered the "go to" dentist who can solve problems of comfort or function that are above the level of usual and customary services.
Through the Dawson Academy, a provider of dental courses, Dawson dentists continually update their knowledge of the latest materials and methods so they are able to provide the finest in smile design that can stand the long test of time. There is no more beautiful smile than one that is in harmony with the anatomy and contour of the individual face. Dawson dentistry provides the most natural beauty available for dental restorations.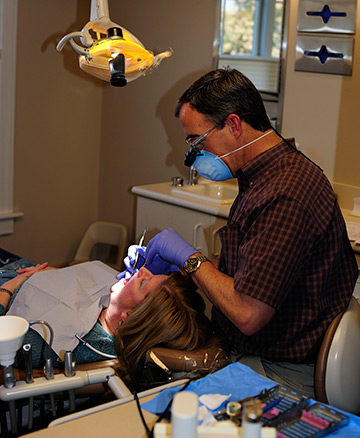 "The quality of knowledge, care and experience you receive from Dr. Stiles and his entire staff is second to none. From the moment you walk into the office till the moment you leave, you are made to feel that you are the most important patient there."
"I have been going to see Dr. Stiles and his staff since I was a little girl. In all the years that I have been a patient, I have never had a back experience, have always received the best treatment, and am always treated like family."
"I just had my first dentist app that with Dr. Stiles and his staff. They were very thorough and detailed. They took the time and attention throughout my visit. I would highly recommend for dental care."
Take some time. Treat yourself. You deserve it.
New patients receive free Smiles Evaluation ($70 value) on their first visit!