Getting those "pearly whites" gleaming is always desirable. We see our favorite A-list celebrities with dazzling white smiles and dream of having a look just as star-worthy. Dream no more! You can achieve that "Hollywood" smile, even here in New Jersey. With teeth-whitening procedures, your teeth can go from "blah" to beautiful and stay that way for a long time.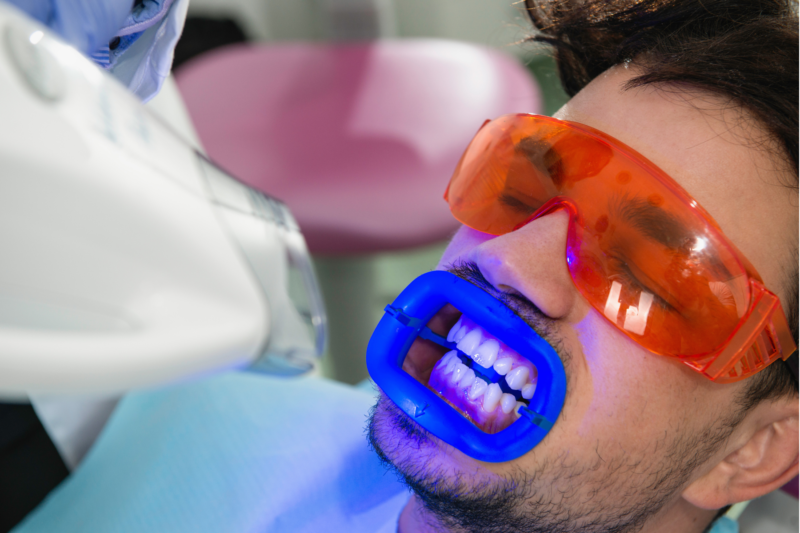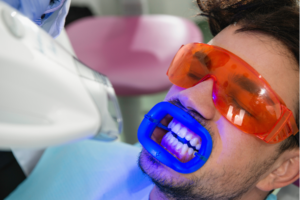 Here at Stiles Dental Care, we are committed to your oral health and hygiene as well as your cosmetic concerns. Our friendly and professional team members are experts, delivering services you can rely on no matter the reason for your visit. When it comes to teeth whitening, we understand how much a bright smile means to you, and we offer both in-office and at-home teeth-whitening options, depending upon your preference.
Why Should I Whiten My Teeth?
You may want to whiten your teeth if:
They are yellow, brown or gray
They are dull, stained or discolored
Your teeth don't match in color
You simply want whiter teeth
Why Aren't My Teeth as White as I Want Them to Be?
Various elements can play a factor as to why your teeth are not as white as you would like for them to be, including:
Aging – natural process we can't do much about
Smoking/tobacco use
What you eat and drink – some foods/beverages can stain teeth
Poor oral hygiene habits – be sure to brush and floss regularly
Certain medications (discuss with your doctor)
Injury to the teeth or gums
Genetics
Past dental procedures (metals can alter tooth color)
Fluoride treatments (overexposure)
By whitening your teeth, you can improve the appearance of your smile due to any of the above reasons. Understand that each patient is unique, and some may see a drastic change while others may only see minimal results post-whitening. Our goal is to get your teeth as white as possible, safely and effectively, with results that are noticeable.
Can I Whiten My Teeth at Home?
You can whiten your teeth in the privacy of your own home with special molded trays that are custom designed to fit your mouth. We will provide these take-home trays for you along with the bleaching treatment solution you will apply.
We will provide instructions during your appointment, including how to use the trays, how long to use them, and after-care steps. It is quite simple to do.
There are also over-the-counter teeth whitening treatments available, which you can pick up at your pharmacy, including:
Whitening strips
Whitening toothpastes
Whitening gels
Whitening rinses
Whitening trays
The above over-the-counter teeth-whitening options can be effective, but the formula for our take-home version's bleaching agents is much stronger, allowing you to get your teeth much whiter with the same level of convenience.
What About In-Office Whitening?
We proudly offer in-office teeth whitening at Stiles Dental Care. We will administer the whitening solution, which is even stronger than the take-home variety you get with use of the at-home trays. Using heat or light to enhance and accelerate the whitening process, you will enjoy the best possible results. You can sit back and let us do the work, and you will head home with a smile that gleams and sparkles.
After the teeth-whitening treatment, some people experience some tooth sensitivity, but this should fade fast. If you still feel sensitive days later, contact the office, so we can address the issue accordingly. Avoid very hot or very cold foods and beverages if your teeth feel sensitive during this time.
How Can I Keep My Teeth White?
After you have whitened your teeth, you will want to keep them that way. Naturally, over time, they will start to fade, but you can take steps to keep them as white as possible after treatment, such as:
Avoid/limit potentially staining foods and drinks, including chocolate, red sauces, dark berries, coffee, cola, tea, red wine
Do not use tobacco products
Brush and floss daily
Use whitening rinses
See your dentist for twice-yearly checkups and professional cleanings
Stay healthy
If/when your teeth need a refresh, we can re-whiten them in-office or supply you with trays you can use at home. With good care as noted above, you most likely won't need to redo the whitening process for many months, perhaps even years.
Let's Step Up Your Smile!
Are you ready to see a brand-new you? A spectacular smile sets your self-esteem in motion, and we can help you with this boost of confidence.
Book a consultation by filling out this brief online form. Someone from our reception desk will get back with you ASAP to schedule your appointment. You can also give us a call at (609) 546-3219 to book your visit. Stiles Dental Care is open from Monday through Friday.
We look forward to transforming your smile.