Whenever you move, you'll have to find a new dentist. But much like so many dental procedures, it's all about the right fit.
Of course, you want a dentist with the right professionalism and credentials, but you also want to go to an office where you feel welcomed and comfortable.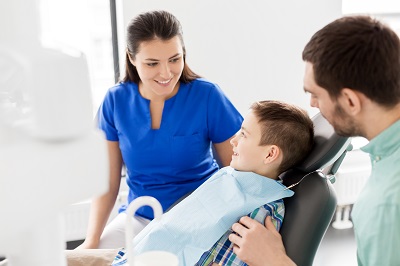 Since choosing a new dentist can be a bit of a daunting task, we're helping you out with this guide on how to find the best dentist for you and your family. Make your way through this checklist to find the perfect dentist!
Do They Have A Website? Does It Look Professional?
It's 2020. Every business should have a decent website, and your dentist is no different. Their website should be clean, easy to navigate, feel modern and updated, and give you a good feeling that this is a reputable dentist who takes their practice seriously.
The information on the site should be well organized and void of any typos. You're looking for modern photography, easy navigation, up-to-date information, and clear descriptions about the types of dental procedures that are available. The site should also have some patient reviews to show you that recent patients have had a good experience. If not, red flag!
Also, it would be nice if they have online booking available since, again, it's 2020 and all offices should have this feature!
Do They Have The Proper Credentials?
Another question that can be answered right on the website is if the dentist has the proper education and credentials. All dentists in the US must attend an accredited dental school and pass practical and written exams to graduate. They also should continue their education after graduation to keep up with new procedures and technologies.
If you don't see any education information or credentials on the dentist's information, just ask them.
What Are Current And Past Patients Saying?
Do your homework! If you don't see any patient reviews on a dentist's website, check other sources like Google and Yelp. You can learn from other patients what kind of experience they've had with the dentist.
If you see numerous negative reviews you know to stay away, but unanimous positive reviews are a great sign.
Ask For Recommendations
New to the area? Talk to your neighbors and coworkers to see who they go to and why. If they're in a similar family situation (i.e. have kids around the same age), even better. Having a recommendation from someone you know is one of the best ways to feel comfortable right away.
What Services Does The Dentist Offer?
Find a dentist that provides the type of services you and your family need. It's likely that somewhere along the way, someone in your family is going to need more than just a teeth cleaning. You want to choose a family dentist that provides a wide range of dental services so everyone gets the care they need. This can include restorative services, teeth whitening, braces, and wisdom teeth removal.
Do They Use Up-To-Date Technologies And Procedures?
This will take a bit more homework on your part, since it's likely that you aren't up-to-date yourself on the latest in dentistry. When browsing your dentist's website, look for modern dental services like Invisalign, LED whitening treatments, and more. Another big one is rotary endodontics, a modern root canal treatment.
What's The Office Culture?
Now that you've verified your dentist is credentialed, legitimate, and well-liked in the community, it's time to see if they're culture is a good fit for you and your family.
You might get an idea from their online presence and when you speak to a receptionist over the phone, but once you come in is when you'll really learn how the practice is run. If the office feels like a warm environment, you'll be much less likely to dread your next appointment.
When you and your family don't mind your dentist, it will take a lot of the anxiety away.
Does The Practice Accept Your Insurance?
Lastly, and perhaps most importantly, you want to make sure that the dentist accepts your insurance. If the dentist you're looking at isn't in your network, find one that is. Dental procedures can be a significant expense, so you definitely want to choose a family dentist that works with your insurance. This can be a deal maker or breaker.
Summary
If you find a dentist that checks all of the boxes above, congratulations! You've likely found your new family dentist. For those in the Medford, New Jersey area, Stiles Dental Care offers years of experience, uses modern procedures and technology, and offers a friendly environment to welcome you into the office each and every visit. We can't wait to meet you!
Give us a call today to schedule your first appointment.