When was your last dental check-up? If it's been a while, you might be curious about the procedure. What exactly goes down?
And furthermore, what is the dentist actually looking for in your mouth?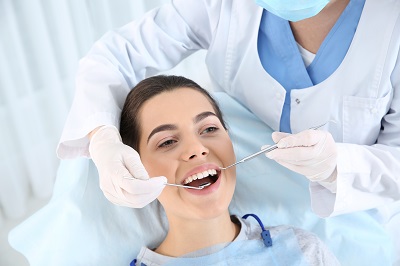 Well, wonder no longer. We're going to give you a step-by-step breakdown of the dental procedure. Here's the only dental exam checklist you'll ever need.
1. Check-in with the Receptionist
It all starts at the reception desk! Stop in, tell them who you are and your appointment time. If it's your first time visiting the office, you may have some additional paperwork to fill out, but if not, just grab a seat and relax until the receptionist calls you up.
2. Meet Your Dental Hygienist
Once you're called, you'll meet your dental hygienist and be taken to your comfy chair. Your hygienist is a trained dental professional who handles routine dental care like cleanings. Hygienists make up a big part of any dental practice and will help you optimize your oral health.
3. Go Over Your Medical & Dental History
Your hygienist will chat with you about your medical and dental history. If you've been to the practice before, they will ask if there have been any changes in your health since your last appointment. This will include if you're taking any new medications or have any health concerns. It's important to be honest about this information to help your hygienist keep you safe during your cleaning and avoid any anxieties or allergic reactions. It's common to be uncomfortable or anxious at the dentist, but being upfront and honest can help alleviate these fears.
4. Time For Your Teeth Cleaning
Once any concerns have been covered, it's time to start working on your mouth. The dental hygienist will give your teeth a thorough cleaning. They will first scrape off built-up plaque and tartar that collects above and below the gum line. Next, they will floss between and around every tooth to remove anything left hanging on.
They will then use a polisher with a spinning head and slightly abrasive paste to give your teeth and smooth and shiny finish. The polishing will also get rid of any remaining residue. If you practice good oral hygiene, plaque will have a difficult time collecting on your smooth teeth between visits.
5. Teeth Examination – What Is The Dental Hygienist Looking For?
Once your teeth have been cleaned, you might feel like you're all done, but not quite. It's time for your hygienist to take a look at any areas of concern in your mouth. This is when they probe around with that mirror and check for any issues behind and between your teeth and gums, and check your tooth enamel and dentin to see if it has softened.
The hygienist will also check for swollen gums, mouth sores, and any redness. They will also measure the spaces between the top of the gum and where your gum tissue firmly attaches to the tooth, known as periodontal pockets. These should only be between one and three millimeters deep, and deeper pockets may be a sign of gum disease.
6. Taking Dental X-Rays
Lastly, you'll have X-rays of your mouth taken so the dentist can see if there are any structural issues. You'll bite down in a piece of plastic while the X-ray machine is placed against your cheek. The image will show your teeth, the roots below your gum line, and your jawbones. Your dentist can see from the images what is happening in your mouth and assign any care as needed.
7. The Dental Exam
You're not done with the exams yet! This time, your dentist will come in and take a look at your X-rays. He or she will look for abnormalities below your gum line, jaw alignment issues, signs of teeth grinding and/or clenching, oral cancer, and more.
Your dentist will typically feel your jawbones while you bite down to ensure you have a smooth, aligned bite without any click or popping in your jaw joints. The dentist will also check the grooves of your teeth to check again for grinding or clenching. Then, the dentist will feel behind your jaw and neck for signs of oral cancer.
Once this exam is complete, your dentist will have a full understanding of your oral health and make recommendations based on his or her findings. This may involve scheduling another appointment or a procedure, or simply just advice on what you can do better at home. The best-case scenario is a "keep up the good work."
8. Schedule Your Next Appointment
Now you're all done! It's time to schedule your next appointment (usually six months ahead). Having regular cleanings is the best way to ensure you avoid cavities and costly procedures. There's simply no better oral protection out there!